Distribution and publishing
Perennity: your one-stop solution for secure and efficient DICOM data distribution
When it comes to securely and efficiently distributing DICOM study data, Perennity offers all the options you can consider: a non-diagnostic or a diagnostic web portal, portable media creation (CD/DVD/USB), or secure transfer over regular internet connections.
As your needs change, Perennity will evolve with you, offering all of its comprehensive functionality from within the same user-friendly interface. You pay only for what you actually need, and if necessary you can modify your license (add or remove certain features).
Patient/referrer web portal
Empowers patients and referring physicians
Our patient and referrer web portal provides easy, secure, authenticated, anytime access to imaging studies and diagnostic reports. The Perennity patient portal is a perfect replacement or complement for portable media creation (CD/DVD/USB).
Delivers a superior user experience
Nowadays patients want simple access to their healthcare data, from any device. The Perennity patient portal offers a zero-footprint solution for any OS, including Android and iOS on mobile devices.
Referring physicians also need quick, convenient access to imaging data and diagnostic reports. Our portal provides them immediate access to all studies of their patients – present and past – even before the consultation. No more need for time-consuming portable media handling!
Patients can easily share selected studies with another physician or clinical specialist. They can also download images, either as native DICOM files or as JPEG.
Offers hosting sovereignty
The portal can be hosted at your premises, in a local data center, or at a local or global cloud service provider. Perennity supplies you the solution, you choose the hosting and remain full owner of the data.
Saves time and money
Utilizing portable media tends to be time-consuming, both from a production as from a consultation point of view. Our portal has been designed to significantly reduce operator workloads, and publishing can be fully automated. Recipients (patients and/or referrers) have immediate access, after being automatically notified.
Bottom line: improve patient care, encourage loyalty, enhance overall satisfaction
Our patient portal offers huge benefits for all involved parties: fast and easy web access to the portal, access to current exams but also to priors, study downloading, study sharing. It also enables a much more efficient workflow in the radiology department.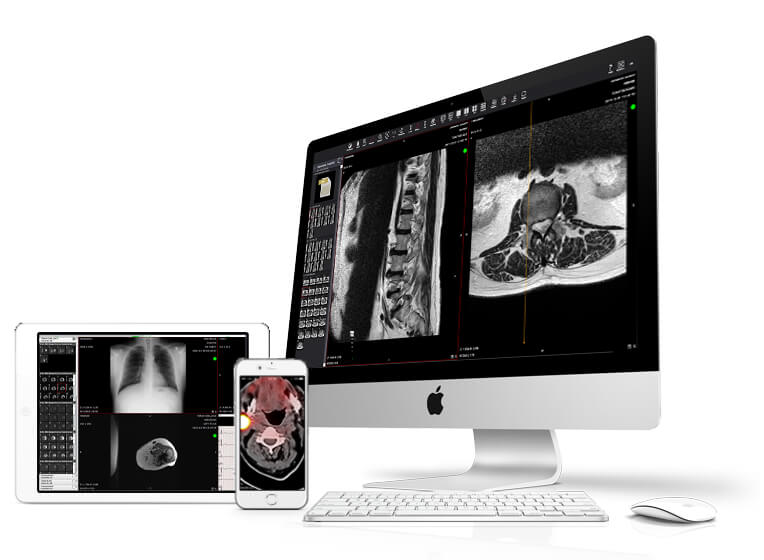 Tele-radiology web portal
Perform effective remote reading
With a universal radiologist shortage and increasing workloads, there's a growing need to maximize productivity and efficiency in radiology departments. Remote image interpretation can considerably boost overall productivity, which ultimately accelerates better patient care.
Our tele-radiology web portal also offers an extremely convenient way for sharing studies with other radiologists, wherever they are located (e.g. for second opinion or research purposes).
Security and patient privacy guaranteed
For many years healthcare providers have been reluctant to store patient data in the cloud due to perceived security risks. Thanks to its sophisticated defense systems, Perennity is just as secure – if not more – than any on premise solution.
All data transfers are encrypted, all users are required to configure strong passwords, all access to data is audited.
Full-featured zero-footprint diagnostic web viewer
By adding MedDream, a diagnostically certified HTML5 web viewer, radiologists are offered remote image interpretation and reporting capabilities. MedDream offers all standard image manipulation tools for general radiology, but also advanced features such as MPR/MIP/3D and PET/CT fusion. It furthermore offers support for ECG, retinal imaging and the most common video formats.
Although web portals are now the preferred method of publishing imaging studies, there is often still a need for portable media (CD/DVD/USB). Perennity offers a very convenient, easy to use and flexible solution for any publishing scenario.
Affordable media publishing made easy
Our reputable Media Burner, available either standalone or in combination with the portal, is the perfect solution for producing industry-standard portable media.
Versatile Free Choice of Viewer
All produced discs contain not only the DICOM studies themselves, but also a portable viewer of choice, which allows for recipients to open and view the DICOM images directly from the media.
Flexibility in configuration and design
Media Burner offers unique profiles, that trigger media production workflows (e.g. anonymization, encryption, emergency discs…).
CD/DVD can be highly personalized when using a robotic system with an integrated label printer, to create a visually appealing label layout.
Worry-free secure image exchange

Easy to set up, easy to use
If you need to transfer imaging studies between remote locations, consider using our transfer feature. Included in several iMAGE Portal editions, and also available as a standalone module, transfer provides a highly secure and efficient mechanism to transmit DICOM data over standard internet connections (incl. 4G/5G).
There's no need for dedicated lines or complex VPN connections. Our transfer solution integrates transparently in your DICOM network and behaves 100% as DICOM to the outside. Transfers can be bi- or multi-directional, allowing for exchanging images, reports and other DICOM objects between geographically distinct sites.